Telephone
Set the language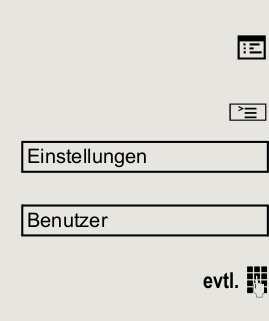 Press the 'Settings' key (second symbol above).
Choose 'Einstellungen'.
Choose 'Benutzer'.

You'll be prompted for the password.

Choose 'Lokalität'.
Choose 'Sprache'.
Choose your language.

Choose 'Speichern & Beenden'

The new language becomes active by going back and leaving the settings menu.
Webclient
Shows Call history
Address book of the whole university.
Conferences
Start phone calls from your computer.
Setup call redirections
Classic web client: configure an email to be sent when you missed a call
Smart Client Overview
| | |
| --- | --- |
| Start a Call | Type in the number you wish to call in the search box to the top right, you can also search for names in the address book. |
| Address book | Searchfield in the top right, enter the Name or part of the Name of the person you wish to call. |
| Call History | Is displayed in the center. |
| Groupcall | With the (+) Symbol next to the contact names, you can add multiple persons to call at the same time. |
| Contacts | Add your own Contacts with the little person symbol next to the search bar |
| Conferences | Right there is a tab with a triangle, this is the conference tab. Here you can create conferences and invite people to it. |
Call Redirect
Forwarding Rules (to the right of Telefon Büro)
Activate Simple call forward ("Einfache Anrufsweiterleitung")

First Option: Redirect if number is busy. Choose a contact who you want to redirect to.
Second Option: Redirect if no answer. Choose a contact who you want to redirect after 4 rings.
Voicemail
Account / Private PIN
Account (Benutzer / Mailbox / Codenummer): last five digits of your phone nummber
Default PIN: 12345 (only phone, not webinterface)
Set a new private pin:

Take the handset or press the loudspeaker key.
Dial: *78
Wait until you hear the computer voice
Dial: 9
Dial: 3

Dial your new private pin (min 5 numbers, max. 24 numbers) and press # at the end.
Mobile Clients
| | |
| --- | --- |
| App Name | OpenScape Mobile |
| Username | 55xxx@system (interne Telefonnummer) |
| Password | Gleiches wie Webclient |
| Server | |
Apple iPhone
Preferences > Advanced > Allow all Certifcates
Android
Preferences > Advanced > Allow all Certifcates
Calls
Add device under Preferences > Devices

Name "Mobile" or similar, address im format: +41791234567 eingeben.
RNA: how many times should it ring before forwarding?

Choose at the call that the source should be the mobile phone.
Pick up call.