Staple & several copies
If you like to print several copies and want to use the staple feature: do not use Copies on the first dialog page!

Instead use Tab: Advanced > Repeat Job: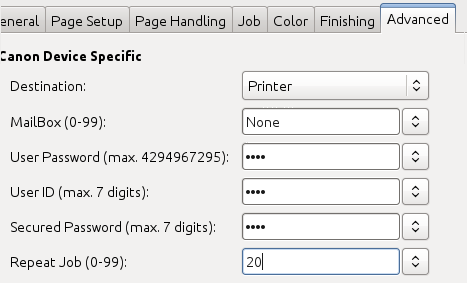 Booklet printing
Printer / Copier 'jcolor' is capable to fold and stamp printouts to create booklets / brochures.
Mulitple Copies: DO NOT USE 'copies' (print dialog or via commandline '-n num-copies'). Instead use 'Repeat jobs' under advanced options.
Up to 16 sheets of paper can be stitched! If you have more they only get folded.

Printing booklet with only folding (no stamps), might produce outputs where the single folded sheets of paper are one by one and not inserted into each other.
Linux via terminal
lpBooklet.sh -n <number_of_copies> -m <A4|A5> -f <file.pdf>
Linux via GUI
In the print dialog select printer jcolor. Do not select multiple Copies there!

Go to Page Setup and select at Paper size A4 or A5. One-Sided has to be set!

Go to Finishing and check if Booklet Printing is set to "On"

Go to Advanced and select at Saddle Stitch Setting: if you want the booklet folded only or folded and stitched. Also Repeat Job (seen above) should be used instead of multiple copies!

Hit Print to print your booklet
Windows
In the print dialog of the application (Word, Acrobat, etc.), select the printer jcolor and open the Printer Properties
Select the Basic Settings tab and choose Booklet A5 or Booklet A4, depending on your requirements
Confirm the dialog by pressing OK

Print the document