collab.math.uzh.ch
URL

Product

Limits

No administrative user limits. Technical limits: perhaps 200 concurrent sessions.
Big classes (>50): switch off participant webcam - at least low quality.

Authenticated

Sign In > Sign in with LDAP > Username: <uzh shortname>, Password: <UZH Webpass>.

Self Registration

Sign up: Full name, Password.

Browser

Best (Audio, Screen share): Google Chrome, Firefox - MacOS Safari is instable.

Mobile

No App necessary. Use standard browser.

Screen Share

Desktop, Application, Chrome Tab
Mobile: No internal screen sharing (use a notebook as presenter, share your iPad or Android screen to the notebook).

Whiteboard

Integrated. Optional: shared whiteboard.

Upload Documents

Only presenter.

File sharing

None.

Moderator features

Mute (all), switch off webcam, change presenter / moderator.

Recording

Integrated, started by mouseclick, download via link or public, the recode process starts after meeting is closed and needs some time.

Group work

Time limited break out rooms (part of a meeting). Doc

Chat

all, 1:1.

Notes

All can write on the same board.

Raise Hand, Emoticons

Supported (check symbol of 'Users', left pane).
The service is hosted at I-MATH.
As long as our Y27 uplink is not saturated, we can create additional instances - we should not have performance problems.
The sound seems to be quite well.

BigBlueButton seems to be a 90% replacement of Adobe Connect, plus 'Break Out Rooms'.
FAQ
How many people watched the recording?

Currently we do not have any statistics (#10353, #10354) - we're looking to implement a statistic.

How do the students find the recordings?

Conferences started via w3/my: The recordings will be listed on the homepage automatically.
Conferences started individually: The lecturer/tutor has to publish the 'room' link. It's the same link as the students use to join the conference.

How to save the chat

Menu (three vertical dots), in chat windows, upper right corner: save
The chat content is gone after closing the meeting.

How to export the annotations of the whiteboard

Currently: not possible (#10352). We're looking for a solution.

How to screenshare from a tablet?

Not directly supported.
Workaround: mirror the screen to a notebook which is logged into collab and does a screenshare.
Speaker
Sign in
By using w3/my: Not necessary

Without 'w3/my': Sign in with your UZH Shortname and Webpass Password: Sign in > Sign in with LDAP.
Meeting room
By using w3/my: Not necessary - click in w3/my on Stream speaker

Without 'w3/my':

Create a meeting room. One per lecture and/or per exercise. Room might persist over the whole semester.
Publish the URL (on the lecture homepage, per email to the students).

There is no group permission - anyone who knows the meeting room URL might attend.
Audio check
After every login: As speaker, always select microphone. Start a short audio test - you should hear youself as echo.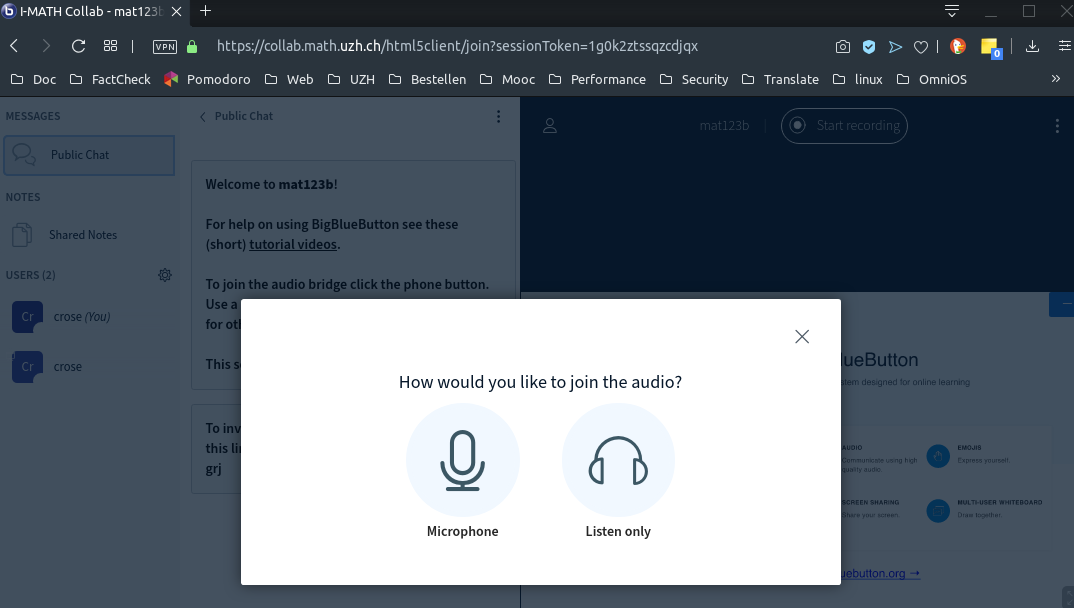 Mute / Unmute Meeting
Presentation
Present:

Yourself with the webcam.
A PDF / PPT
Screen Share
Using a tablet
Currently there is no possibility to directly do a screen share from iOS or Android tablets.
A workaround is (C=computer, T=tablet):
C: Use a computer (desktop or notebook).
C,T: computer und tablet should be connected to the same WLAN.

T: Initiate screen sharing (Android, iOS) from your tablet. Do not make it fullscreen on your computer now.

C: Start the video conference on the computer (e.g. BigBlueButton via https://w3.math.uzh.ch/my > lectures).

C: Start screen share inside the video conference.
C: Make the tablet window fullscreen.
Alternative to commercial software:
Recording: individual
Start the Session.
Click on 'Start Recording'.
You can pause the recording.

To end the recording, choose End Meeting (right upper corner: three point menu)

You'll find the recording under your collab 'Home'.

Click on session
As soon as the recording is rendered (it takes several minutes to hours) it will appear.
Check the recording and publish it.
Copy the URL and send it to the audience.
Recording: lecture/seminar/exercise
Click on 'Start Recording'.
You can pause the recording.

To end the recording, choose End Meeting (right upper corner: three point menu)

You'll find the recording (as soon as rendering has been finished) under https://w3.math.uzh.ch/my
Student
Watching a Lecture or Seminar Stream
To watch a lecture or seminar, follow these steps:
Log in at https://math.uzh.ch/my

Navigate to 'Lecture' or 'Seminar' depending on the stream you want to watch.
Click the 'Streaming' button of the lecture or seminar. You will be redirected to the streaming page. There you will have one or more options of streams to join (Lecture / Exercise / Seminar).

Note that there are currently different streaming services in use. Therefore the site you are redirected to might not always look the same, depending on the settings your lecturer has chosen.
If a stream is not running, then clicking 'Watch Lecture/Seminar' will redirect you to a Waiting Room site that will automatically load the stream once it starts.
Participating in an Exercise Stream
In addition to lecture and seminar streams, there are exercise streams as well. These streams are opened and moderated by the tutors who usually assist the students with their exercises.
To join an exercise stream, follow these steps:
Log in at https://math.uzh.ch/my

Navigate to 'Lecture' and click the 'Streaming' button.
You are now on the 'Exercise Stream: [group name]' button.

Please note that these buttons will appear as the stream starts and disappear when it ends.
If you are waiting for an exercise stream to start, you have to refresh the page to see the button.
Watching a Recording
If you missed a lecture, seminar or exercise stream, you can still watch a recording of that stream later.
Click 'Streaming' on your lecture or seminar page.
Click the 'Recordings' button to get a list of its published recordings.
Choose a recording and click 'view'

Please note that after a stream has finished, it may take some time until the recording is published. There is no guarantee that a recording will be published at all.
Watching the Streams without a Login
If you do not have valid login credentials for https://math.uzh.ch/my, but you want to watch a lecture, seminar or exercise stream, then follow these steps:
Select the lecture or seminar you would like to watch
Click 'Streaming'. You will be redirected to the streaming page.
Click 'Watch Lecture', 'Watch Seminar' or 'Join Stream' (Exercise) to be redirected to the stream.

Please note that not all streams will be accessible this way. Since this site is public, it is your lecturer's and tutor's choice to enable or disable this way of accessing their streams. Your tutor may also set a password for the stream, which enables access without a Login.